---
WORKOUT AND
PRACTICE WITH US
---
Weights. Cardio. Crossfit. Yoga. Barre. Les MILLS classes.
 Private coaching.
Stretching therapy. Massage. cupping. Lymphatic drainage RENATA FRANCA.
Proteins. Juice Bar. Supplements. Boutique.
CORENTIN
Passionate and former tennis player, I really want to share my knowledge with you, physically and mentally.
I used to work during years in the physical raining for children tennis and athletics team, so friendliness, good mood and global wellness are my mottos.
I am more than ready to take care of your body and mind according to your expectations and goals and will not hesitate to push yourself out of the box if needed.
My Areas of Expertise:

-Physical trainings
-listenning 
-friendliness
CORALIE
Versatile and passionate, I practiced a lot of collective sports, soccer, basketball, handball, even running in competition.
All the communicative energy of my passion is now to your service to create a collective dynamism and fun trainings.
I make a point to help you to find the best version of yourself in each session that I love accessible for anyone, but also to make yourself free from daily anxiety, and strengthen your mind too.
My Areas of Expertise :
– dynamism
– adaptability
– group classes (les mills)
BE
I quit my job as a lawyer to satisfy my passion for yoga 7 years ago. as an anatomy nerd, I try to make you discover the keys to feel as comfortable as possible.
when you understand how your own body works, you open the doors both of terms of muscles development, progress but also posture adaptability or post injury.
It is all in details, the motion's awareness & you own mindfulness.
My areas of expertise :
-stretching, mobility and movement.
-Professional & fun.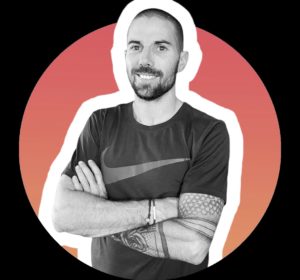 DAVID
You can hear that I am strict and I admit, people are right.
I dreamed of being a coach in the army. Everything is about your goals and don't put a blame on me if I take you out of your comfort zone.
safety, pedagogy, energy and results, here are what you will find in my Crossfit classes and coaching.
My areas of expertise :
– dynamism, adaptability
– Crossfit level 2